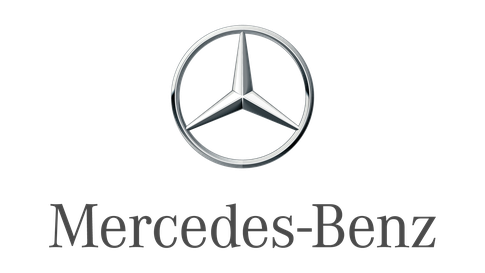 Mercedes Atego PDF Service Manual
Mercedes Atego PDF Service Manual
Mercedes Atego PDF Service Manual_compre
Adobe Acrobat Document
2.5 MB
Mercedes-Benz Sprinter 2007 Owners Manual
Mercedes-Benz Sprinter 2007 Owners Manual
Mercedes-Benz Sprinter 2007 Owners Manua
Adobe Acrobat Document
9.0 MB
Mercedes-Benz Unimog Series 405 Service Manual
Mercedes-Benz Unimog Series 405 Service Manual
Mercedes-Benz Unimog Series 405 Service
Adobe Acrobat Document
3.2 MB
Unimog PDF Service Manuals
Unimog PDF Service Manuals
Unimog PDF Service Manuals_compressed.pd
Adobe Acrobat Document
9.9 MB
Mercedes-Benz Arocs Introduction Into Service Manual
Mercedes-Benz Arocs Introduction Into Service Manual
arocs_compressed.pdf
Adobe Acrobat Document
3.5 MB
Mercedes-Benz Actros 1851 gigaspace User Manual
Mercedes-Benz Actros 1851 gigaspace User Manual
mercedesbenz_actros_1851_gigaspace_compr
Adobe Acrobat Document
8.8 MB
Mercedes Axor truck - a conscious choice
 Currently, in many industries, trucks are very popular, of which a huge number are represented on the modern market. What can a well-known Mercedes-Benz company offer? Consider Axor, a safe, reliable and comfortable truck for regional transportation, the production of which the company mastered in 2001.
 Constructive decisions
To increase the efficiency and safety of Mercedes Axor truck models, the developers have worked on a number of design solutions:
weight reduction of a truck;
equipment reliable and powerful six-cylinder engines;
the introduction of 6, 9, 16-speed gearboxes with a tunnel crankcase;
Equipped with Telligent® brake system and pneumatic disc brakes with ABS;
the use of aerodynamic elements, flammable and shatterproof materials, heated mirrors, side mirrors with a large viewing angle;
introduction of on-board electronics;
the use of single bridges with the main hypoid gear;
Use of new BlueTec® environmental diesel technology.
Cabs of trucks Mercedes Axor
The Mercedes Axor truck is manufactured with five cab modifications - short, long (1650 mm), enlarged (1820 mm), with one sleeping bag (2,250 mm) and with two sleeping bags plus a high roof. Moreover, drivers prefer the latter type of car, since its cab has a convenient entrance, compartments and shelves for things.
The driver's workplace is characterized by rationality, ergonomics, convenient location of the control panel, mirrors with circular volume. Includes air suspension seat. Drivers are attracted by the interior trim, which is not inferior in comfort, but somewhere superior to the trim of Mercedes cars.
When choosing a suitable car, as a rule, they pay attention to high load capacity with their own low weight, low fuel consumption, operational safety, technical reliability and level of comfort for the driver. All of these qualities are superbly versatile Mercedes Axor truck.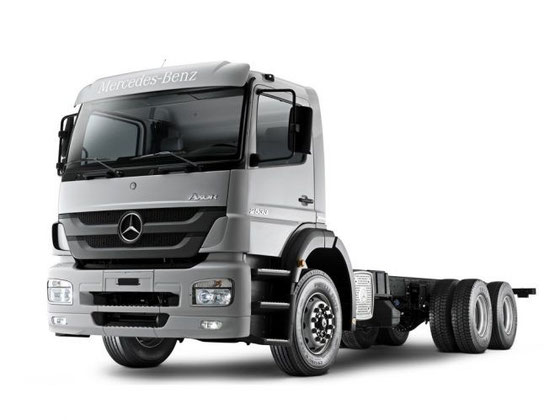 Trucks Actros - "young growth" Mercedes
      In 1996, Mercedes (Daimler AG) launched the Mercedes Actros truck, which caused a significant "blow" to other competitors due to the fact that the car is extremely reliable and economical, as well as a high level of comfort, safety and driver convenience. The modernization of these trucks was then carried out in 2005 and in 2008.
Technical description of Mercedes Actros trucks (Mercedes Actros)
In the Actros line, truck tractors come out with wheel formulas of 4 × 2 and 4 × 4, 6 × 2 and 6 × 4; cabs that are suspended on 4 pneumatic elements. The truck is equipped with 6 and 8 cylinder turbodiesels from the 500 series with a displacement of 12 liters and 16 liters, respectively. The power of the first is 313-428 hp, the second - 476 - 571 hp Driving axles have hypoid or planetary wheel gears; in trucks, ventilated disc brakes, air spring or combined suspension are used.
 There are modifications of single, two, three and four-axle trucks weighing from 18 to 41 tons. Cabins are available in 3 versions:
 standard S - with a length of 1700 mm, a height of 1560 mm;
type M - with a length of 1950 mm;
type L - with a length of 2200 mm and a height of 1920 mm;
type Mega Space - with a height of 1920 mm and a flat floor.
The cars use an automated MercedesPowerShift 2 gearbox and an economical, designed for many years of operation, BlueTec engine that meets Euro 5 standards.
Advantages of Mercedes Actros trucks:
low operating costs;
Telligent electronic vehicle maintenance system that monitors the normal operation of all important components, assemblies and mechanisms;
reliable V6, V8 diesel engines with increased ultimate pressure and economical fuel consumption;
equipping the 2012 Aktros main tractor with a turbodiesel engine with an innovative fuel injection system - X-Pulse;
The transmission has an automatic gear shift control system.
High comfort Mercedes Actros trucks
 All pendants are equipped with shock absorbing parts, and the cabs have electronic lifts, as well as control systems for mirrors and windows that are heated in a cold climate. The seatbacks with velor wear-resistant, practical upholstery are easy to fold, there is a folding table for eating, which is easy to clean or install. The berth is an ideal compartment for a good rest.
 Mercedes Atego truck modifications
    Mercedes Atego medium and large trucks manufactured by DaimlerChrysler were first produced in 1998, and over time, cars weighing from 6, 5 tons to 26 tons were added to them, the range of which today includes more than 25 basic models with wheel formulas 4 × 2, 4 × 4, 6 × 2 and 6 × 4. All the modifications presented are usually divided into 2 series: light (from 6.5 t to 15 t with a biaxial design) and heavy (from 18 t to 26 t). By the way, from 1998 to 2005, more than 170 thousand cars were produced, successfully sold in 120 countries of the world.
Technical characteristics of Mercedes Atego trucks
Trucks Mercedes Atego compares favorably with other models by the following characteristics - economy in terms of fuel consumption, quality, reliability, excellent maneuverability, easy handling and comfort.
We list the technical characteristics that allow us to talk about the undoubted advantage of Atego trucks:
 robust frame design, from 5 to 7 mm thick;
air suspension and steel springs (parabolic and semi-elliptical);
three powerful gearboxes having from 5 to 12 steps;
economical and powerful four-cylinder and six-cylinder engines with BlueTec technology and a start-stop system controlled by the Tilligent electronic system;
the presence of planetary wheel gears;
reliable ventilated disc or drum brakes.
Varieties of Mercedes Atego truck cabs
The Atego truck is available with four different cab options, three dashboard options and many equipment options, which makes it possible to perform almost all construction tasks. In the lineup there are trucks with an onboard platform, with three-way unloading and all-wheel drive dump trucks, as well as dump trucks with preliminary lifting of the platform.
 Depending on where the cars will be used, you can choose trucks with a standard cab, a cab with an increased length (180 mm), an ordinary long cab and a long cab with a high roof. The comfortable cabs of Mercedes Atego trucks make an unforgettable impression with their stunning interior and wonderful aerodynamic characteristics. As shown by marketing research, automobiles with a van type, truck tractors and timber trucks, as well as various options for municipal vehicles are very popular with buyers.